In order to increase its mechanical and thermal resistance, the glass is subjected to a toughening process. Tempered glass is classified as safe because of its properties and the characteristic way of breaking when broken into small blunt pieces. Thanks to toughening, the glass becomes 7 times more durable than ordinary non-tempered glass. It is also more resistant to stress and high temperatures. Hardening consists in heating the glass surface to a temperature of about 600 ° C and then cooling it by a blast of air. The result of this process is explained as the result of a specific distribution of thermal stresses. In the cross-section of the glass, with symmetrical, homogeneous cooling, such a system of stresses is obtained, where the outer layers are the compressive stress zone, and the inner layers are the tensile stress zone.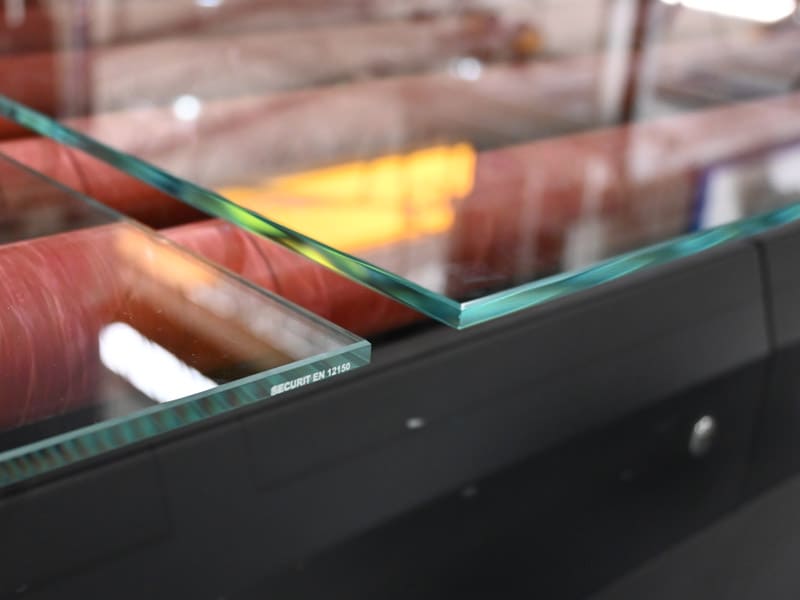 We have the option of toughening glass with a soft coating
The furnace is equipped with a glass bending section:
Before toughening, the glass must be ground or deburred. In the case of toughened glass, the diameter of the holes must be at least the thickness of the glass. The distance from the edge of the opening to the edge of the glass must be at least 2x the glass thickness, and at least 6 times the glass thickness from the sharp corner of the glass, measured along the bisector of the angle.
Any processing of the glass must be done prior to the tempering process. Tempered glass can no longer be subjected to any additional treatments such as: cutting holes. After hardening, we can only make UV printing, varnishing, sandblasting and laminating on the glass.
Tempered glass is widely used in construction. It is used wherever greater security is required. It is used for the production of min. balustrades, doors, shower cabins, partition walls or glass panels for the kitchen.